Natural Technique To Help Stop Panic Attacks and General Anxiety Fast
Click to play the short video:

Is Any Of This Experience Familiar To You?
Maybe you found yourself in the hospital's ER because you thought you were having a heart attack only to be told later it was anxiety?
Do you ever fear you might stop breathing because your chest feels tight and your breathing erratic?
When you drive do you fear the idea of getting stuck in traffic, on a bridge or at red lights?
Do you ever feel nervous and afraid you might lose control or go insane?
Have you struggled with anxious thoughts that will not stop?
Do you ever feel uncomfortable in enclosed spaces such as supermarkets, cinemas, public transport or even sitting at the hair dressers?
Are you nervous and on edge in normal situations that never bothered you before?
Do You Feel Any Of The Following Bodily Sensations?
Dizzy spells leading to panic
Tightness in throat and chest- shortness of breath
Racing heart with tingle sensations
Hot flushes followed by waves of anxiety
Obsessive worries and unwanted thoughts
Not feeling connected to what is going on around you
Overwhelming fear that the anxiety will push you over the edge?
These and other similar uncomfortable sensations are all too common but you do not have to keep suffering from panic attacks or general anxiety.
I'll explain why
Most of the people I deal with have been struggling with anxiety disorders for many years and have usually exhausted themselves looking for a solution in every book, course, or treatment program out there. By the time they get to me, they are very skeptical (as is natural) and have little faith in ever getting rid of their condition.

But First…
If The Above Experience Of Anxiety Is Familiar To You Then Enter Your Email BelowGet Expert Advice In My Free Mini-Series
…"I have found this mini e-series extremely beneficial thank you from the bottom of my heart for giving me the tools to re-claim my life"
David
"I have never written in response to a program that I have ordered but I wanted to let you know that in 3 days I feel better than I ever have after months of therapy and some other online programs."
Eric
"I can't remember ever feeling so wonderful. I feel freedom. No doctor, treatment, book or medication has done what your course has done for me. Thank you thank you thank you."
Claudia
Enter Your Email Address Above For Free Advice and Support

The technique I teach has been developed by me Barry McDonagh, a former sufferer of all too frequent panic attacks and GAD. I developed a completely natural approach to stop panic attacks and reduce general anxiety fast. This may seem very hard to believe for someone who may have had this condition for some time but please believe me when I say that it is possible to be free from anxiety. I will reveal the whole technique to you.
You will be amazed at how such a simple technique known as the 21-7 Technique™ could be so powerful in restoring you back to your former care free self. I am not only talking about stopping panic attacks but also getting your general anxiety level right back down to normal everyday levels without the use of any medication or alternative therapies. This technique is based on advanced psychology made simple for everyone to apply.
This One Technique Can
Be Applied Anytime, Anywhere
Best of all…
It does not rely on outdated anxiety techniques such as 'deep breathing', positive affirmations, or distraction.
It takes seconds to implement wherever you are, -at home, at work or out socializing with friends.
This technique is not NLP or hypnosis. It is an advanced cognitive technique born from traditional psychology that everyone can apply regardless of how long the anxiety has been present.
You will not be asked to follow a time consuming 30 step program that will bring only minor improvements.
After reading this information you will be able to immediately have confidence to tackle any of the big stresses you may have been putting off e.g. driving, air travel, interviews etc.
But don't just "take my word for it",
see what these experts think…
I cannot recommend this program highly enough…
'Panic Away' is a superb program designed to help those countless sufferers from anxiety in all its forms. I found Barry Mc Donagh's approach to the treatment of panic attacks and phobias in particular to be a refreshing one – simple, practical and easy to use. I cannot recommend this program highly enough to anyone trapped in the 'fear of fears' that panic attacks and phobias generate. His approach to embracing anxiety in all its form is one I completely agree with and I would be happy to recommend unequivocally this program to anyone with anxiety
I would definitely recommend it to my patients
Panic-Away is a useful, innovative and insightful technique to take charge and eliminate panic. Its clever and empowering short handed phrases enable a person to detach from their anxiety and challenge it full force. Indeed–this can be the "First-Aid" kit for anxiety. I would definitely recommend it to my patients.
Thank you for sharing this book with us.
You express a lot of the current ideas very clearly and I like your approach to finding what works for individuals. I also like your style of writing, which I think has the potential to encourage and empower clients to tackle the situations for themselves.
…it's well worth the investment
Finally, a clear and concise explanation of panic in it's many forms, with practical advise and exercises for symptom reduction and elimination. If you suffer with panic of any type, it's well worth the investment to get this compassionate, jargon-free program
Getting You Back To Your Former Self Is What Is
Important …That's Our Goal Together
You let me put the technique to work for you and with pure joy you will feel calm restored to your life. I developed and refined this technique over the past 10 years and chances are you will not have come across anything like it before.
Everyone of the testimonials found here is legitimate and written by people just like you. Regardless of how your anxiety manifests you will find a testimonial that matches your anxiety story.
If you will let me I will tell you something extremely important about anxiety and panic attacks. This is crucial if you are to seriously begin on the road to full recovery
OK, here goes..
This Is The Key To Being Panic Attack Free….
You Must Learn To Break The

Fear Of Having Another Panic Attack

Or You Will Never Experience Complete Freedom From Anxiety
-The anticipation of a panic attack starts the wave cycle of anxiety in motion.
-The foundation of a future panic attack is laid hours before you actually experience one.
-The slightest stress trigger will then launch the full blown panic attack into motion.
-Panic manifests itself in approximately 20 minute wave like formations.

This Is Where Your Problem Lies
There is one key factor that makes the difference between those who fully eliminate panic attacks from their lives and those who do not. The key ingredient is not medication, lifestyle changes, or relaxation exercises. It is when the individual no longer fears the thought of having a panic attack..
This may seem like a simplified and obvious observation but give it careful consideration. The one thing that has you searching for a solution to anxiety and panic attacks this very moment is the fear of having another one.
The first time a person experiences a panic attack it can feel like their world is falling down around them. Nowhere feels safe as the anxiety becomes like a stalker lurking in the background.
When this happens people begin to either avoid situations that make them anxious or they medicate themselves to the point where they are numb to the fear. I am sure you will agree neither of the above is a satisfactory solution.
What my program (Panic Away ) does, and in
particular the 21-7 Technique™, is give people the ability to stop fearing another panic attack. It is very simple yet amazingly effective. Here is how it works:
After a person experiences a panic attack for the first time, the experience can be so impacting that it leaves a strong imprint on the persons psyche. This mental imprint generates a cycle or loop of anxiety (see diagram) whereby the person develops an unhealthy fear of having another panic attack. People can spend anywhere from months to years caught in this repetitive cycle of anxiety.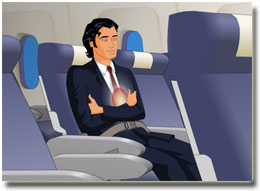 Panic Away teaches a technique that now allows that person to break the cycle of anxiety and return to normal everyday living.
The really unique element of the technique, is that there is no need for you to regress into your past and find out why you had your initial panic attack in order to get results. All that is needed is your willingness to break out of the anxiety cycle. Are you ready to try this right now ?
In the end you must:
Break This Cycle Of Fear With A Tool That Will
Allow You To Never Fear Another Panic Attack
That Has Been The Solution For The
Thousands Of People I have Taught So Far
From the feedback I get, it seems clear that other courses and treatments out there are not showing people how to end their anxiety rather than fully empowering you, they teach coping mechanisms and strategies on how to get over a panic attack once it happens. That is not good enough. Just coping with this condition is not good enough. People need a program that teaches them how to free themselves from ever having another panic attack again.
That I am sure is the only kind of result you are interested in?
Ever Wondered What Exactly Is Happening In Your Brain When You Have A Panic Attack?
The University College London have recently published findings in the journal Science (2007), demonstrating that when people experience extreme anxiety or panic, the activity in their brain moves from the front of their brain to the mid brain. This was demonstrated by scans showing higher blood flow to the section of the brain that was most active. The front of the brain (prefrontal cortex) is where decision making and rationalization takes place. The midbrain (periaqueductal grey area) is where survival mechanisms such as fight or flight originate from.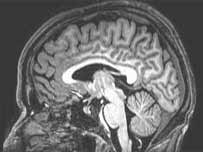 You are probably well aware that a panic attack is a 'fight or flight' response to a perceived threat. The reason the human brain responds like this goes back to our prehistoric past where humans needed their bodies to respond quickly to a perceived physical threat. What this new research is telling us, is that people's mental activity during a panic attack is suddenly moving to the mid brain, resulting in the heightened state of fear and panic. In short, a separate part of your brain becomes more active during a panic attack.
The problem, as you well know, is that once the panic attack begins and that heightened state of fear starts, it is very difficult to calm yourself down. In order to restore calm you therefore need the brains mental activity to change. This is the reason why deep breathing is so ineffective in helping people control a panic attack. All deep breathing does is try and restore calm to the body. Trying to mentally calm the body is like shutting the gate after the horse has bolted.
Your brain is the control center and that is where the change needs to happen. During a panic attack your brain has moved into panic mode and in order to really restore order you need to learn how to switch your mental activity back to the rational part of your brain. What's more is that you need to learn a technique that will allow you to do so in a split second, regardless of where you are or what you are doing.
Sounds complicated? Well it is not. When someone feels reassured that they are safe the mental activity reverts back to the forebrain. The 21-7 Technique™ teaches you to feel safe in a very simple and easy to apply manner. It is a technique that moves mental activity away from the impulsive mid brain back to the forebrain.
Why do you need to know all this? You don't.
In fact I make little reference to the science of the brain in the course because it can put people off or make them feel uncomfortable but suffice to say that the Panic Away course is based on well tested cognitive psychology and science. It is simple and safe to apply. There are no side effects and once you grasp the concept you eliminate your panic attacks. The rest of the course then teaches you how to eliminate any general anxiety you may be feeling throughout the day.
I Barry McDonagh, have been teaching this new revolutionary approach for over nine years now.
To give you a little background, I was in my second year of debilitating panic attacks when I discovered this powerful technique that stopped panic attacks in their tracks
I had been studying the cognitive behavior approach for dealing with panic attacks from some of the top psychologists when I discovered this technique.The real breakthrough came when I made some startling observations about how a panic attack fuels and generates itself. I developed the technique on the principle that if you extinguish the fuel that powers the panic attack, you eliminate its reoccurrence.
I began teaching small numbers of people my discovery and started getting immediate results. This surprised me as I was initially unsure if I could replicate the same results. People were reporting panic elimination and a significant drop in their general anxiety. I have since taught the 21-7 Technique™ to thousands of people in over 32 different countries.
Have You Thought About How Anxiety Holds You Back?
Imagine if you will…

Planning holidays or travel without fear of anxiety.

Being Confident and Feeling Safe to leave your home and being alone.

Having the belief to trust that your body is not in any danger whatsoever.

Never dreading that you might have to leave unexpectedly half way through an appointment or social event (due to a panic attack).

Going about your business daily without any lingering anxiety or anxious thoughts in your mind.

Giving a speech or presentation without any concern of having a panic attack.

Watching your close relationships improving as the barrier of fear is removed.

Feeling confident to fly ,drive or travel by any means you choose without concern.

Stopping nocturnal panic and anxiety that can keep you up at night.

Doing the one thing you love that panic attacks may be stopping you from doing, be it hill-walking to scuba diving.

Not caught in feelings or thoughts of being disconnected from reality.

Being free from unsettling thoughts that can encircle your mind.

Learn the secret lesson anxiety teaches us, and how to turn this anxiety experience to your advantage.

Get clarity of mind as well as peaceful thoughts and feelings.

Learn how to stop checking yourself every five minutes to see if anxiety is present.

Wake in the morning confident and free from thoughts of what the day may hold for you.

Regain the opportunity to do the things in life you have been afraid to do because of anxiety.

Watch how friends and family comment on how relaxed and peaceful you have become

You will enjoy a new enthusiasm for life as exciting life opportunities that were closed due to anxiety open up again for you

Instead of living in daily anticipation of anxiety's next attack, learn to live in a new fearless manner

Become a source of encouragement for
others who experience anxiety and show them the simple steps they can take to end their anxiety
Fact: A Panic Attack Will Not Harm You
I know when you are in the middle of a panic attack it feels like this terrifying experience is so intense, it might just kill you! You feel an array of unusual bodily sensation from dizziness, rapid heart beat to tingles (paresthesias) right through your body. You fear you may have a heart attack or that the anxiety will push you over the edge mentally.
I want to reassure you that even though the sensations can be terrifying, they will not cause you harm. There are very good medical studies to back this up. In fact panic attacks are similar to a good aerobic exercise workout. The fear is powered by an overreaction to bodily sensations.
So What Can I Teach You?… What Makes My Technique So Special?
Firstly, My technique is very unique and proving daily to be a great success when it comes to treating general anxiety and panic attacks. I have extensive experience working through my own anxiety and then that of countless others through private coaching. While going through my own anxiety episode I studied the best psychologists working in the field.
I learned a huge amount from them but not enough to get me panic free. Almost by accident I stumbled on a technique that brought it all together and got me anxiety free. Over the years working with people I developed the technique, honed it down, and made it more understandable so that everyone, regardless of their situation, could apply it. This is years of experience I want to share with you.
Secondly, I am a perfectionist. If you work with me I am dedicated to your well being. Having suffered from panic attacks I would never promote something unless it was getting truly remarkable results. I am not interested in half hearted results, I want you to cross the finish line just like I did and move beyond the anxiety issue that is holding you back. I truly believe you will get full recovery using my program. Please do not mistake this for Internet hype or an exaggerated sales pitch.
Thirdly, I love results. In the end this is all about the results.
You will use the exact same procedure others have used to get the results you have heard about here in their testimonials. You will learn the most critical information you need to know, in a concise manner. You will not be asked to digest pages of unnecessary filler or fluff. Every page is relevant to you and part of a structured process.
How Did Someone with 30 years of Panic Attacks become Completely Anxiety Free?
…They used the exact same technique you will be getting, which will help you quickly break down negative patterns that might be stopping you from feeling safe.
I get countless letters, emails, phone calls from people telling me how much of a difference this program has made to their lives. In fact Panic Away has the largest collection of verifiable photo and audio testimonials for any anxiety treatment program online.
If you can find any other anxiety program with a greater collection of authentic photo and audio testimonials I will give you the entire course for free. That is the key difference which sets this course apart from everything else you will find online. A track record of delivering results!
Please Don't Let Your Anxiety Fool You Into Thinking Your Case Is Unique and You Won't Find Relief
That is simply not true and I have the experience to back that claim up. Don't feel you are a lost cause – no matter how long you have been suffering from anxiety. You must not simply go on coping with this condition. You must embrace the opportunity now to change all of that today. It is so very important to remove these self imposed limitations and get rid of the anxiety that is holding your life back from its true potential. Only you can make the move towards this freedom.
You Must Make The Move Towards an Anxiety Free Life
-It Will Not Find You
Things start to happen rapidly when you begin my program. Due to the way the course is structured, an internal cognitive shift happens whereby you no longer fear having a panic attack. You will learn how to stop a panic attack in 21 seconds flat and end general anxiety in under 7 minutes. It is that simple!
I Have Been Researching This For Over 10 Years
-Now You Can Benefit – Here Is How…
During my anxiety period I studied the research papers from the academics and I read every book I could get my hands on. You might be familiar with some of these popular authors on the subject of anxiety:
Edmund J. Bourne, – Robert Handly, – Pauline Neff, – Lucinda Bassett
There was however still something missing from all I read….
I tried all the exercises, I did the relaxation and breathing techniques but nothing was shifting this deep fear of my next dreaded panic attack. It was very frustrating. Then while experimenting with a combination of new cognitive ideas it dawned on me how to extinguish the very fuel the panic attack is driven by. This changed everything. I could now put myself in all the situations I feared without having to worry about having a panic attack.
Cutting the fuel of the panic attacks had some great knock on bonuses; the obsessive worries and unwanted thoughts disappeared as well. It was like a dense fog lifted. Once I had moved clear of this fog of anxiety it became clear what mistakes I was making and how a simple change in thinking was all that was needed to advance my recovery.
I want to share this vital understanding with you right now in order for you to get the exact same powerful results. You can be the next person calling in to share your great story! Click the play button below to hear what your success story could sound like.
Allow me to be briefly boastful…
In a marketplace crowed with products and courses telling you they have the solution to your anxiety problem it is very hard to find something new that is truly unique and effective. What I have found is that there is a lot of rewriting of old cognitive behavior therapies and mixtures of relaxation/visualization techniques to help manage the anxiety.
Don't get me wrong these can be very effective at reducing general anxiety levels but they do not go to the very heart of the matter. The people I work with have usually tried all those familiar techniques and are now looking for something more effective- Something that will really accelerate their recovery. Something that will stop them having to ever have another worry about anxiety again.
You see, I needed to develop a program that tackled the anxiety on two fronts:
1) The elimination of all panic attacks.
2) Reduce the persons general anxiety (GAD) that causes the unwanted thoughts and everyday anxiety.
Taking this approach has led to countless success stories such as:
No More…

fear of leaving the house in case of a panic attack.

No more fear of getting stuck somewhere you can't excuse yourself from.

No more making excuses why you cannot make it to a social engagement.

No more putting off holiday plans or business travel.

No more fear of business meetings or situations where you are asked to speak.

No more fear of getting stuck in traffic.

No more living in a very trapped existence.
Do You Want To Experience All of This For Yourself
Absolutely Risk Free?
I am so excited about what Panic Away can do for you and I really don't want you to miss this opportunity so… I decided the best thing for me to do is to take all the risk.


What that means is that if you don't get all the results you are looking for from Panic Away then I will refund your purchase in full.
I am giving you a risk free 100% money back guarantee.
No questions asked, no hoops to jump through. Just an honest to goodness guarantee that removes all the risk from you.
Order Now and Start in 5 Minutes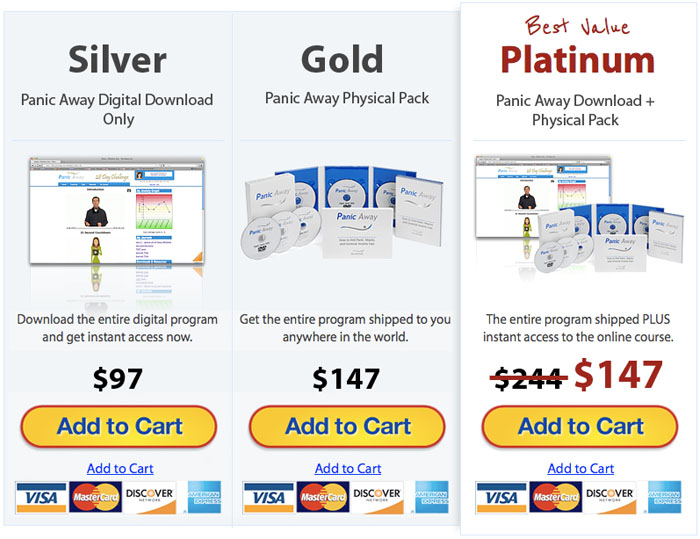 And if that were not enough, if you order RIGHT NOW, I will also throw in Lifetime access to the Panic Away private members forum as a FREE BONUS.
Regarded by many as the best-kept secret of Panic Away, the members support forum is an essential part of Panic Away. There you will find the most caring and supportive people who want you to succeed because they have. You can visit online day or night and find people eager to help because they know exactly what you are going through and how to best handle it.This kind of dedicated support is very hard to find anywhere else. It's a community of qualified therapists and lay people dedicated to getting results and each new member is welcomed warmly as part of the Panic Away family.
I would really urge you to NOT let your anxiety cause you to procrastinate and put this off. Really examine any doubts you have about not trying the Panic Away program.
Remember…

You will be trying a program that has been used by over 60,000+ people..

You are getting a reduced price sale price and…

You have a full 100% money back guarantee.
There really is nothing to lose.
Become a Panic Awayclient and together we will get you anxiety FREE!What I would like you to do for me, is to tell me about your success story. Even though I get a lot of emails I want to hear your success story by the end of the week.
No Exaggeration. Just an Honest Proposal:
What If By The End Of Today, You Were Not Going To Ever Fear Another Panic Attack.
Please do not make the mistake of dismissing this opportunity out of fear that it may be hype or Internet gimmick. If you have reservations let me put your mind at rest. I or one of my staff are more than happy to talk to you if you need reassurance, contact us here. If the lines are busy leave a message and we'll get back to you the same day.
Remember: Panic Away has the largest collection of verifiable photo and audio testimonials for any anxiety treatment program online. If you can find any other anxiety program with a greater collection of authentic photo audio testimonials I will give you the entire course for free. Again, that is what sets this course apart from everything else you will find online. A track record of delivering hard to obtain results!
You really deserve to invest in yourself today especially with this rock bottom price. Allow yourself the opportunity to be truly anxiety free.



I look forward to getting a letter or email from you as soon as possible,
telling me about your experience using the program for overcoming
panic attacks and acute anxiety.
. Even though I get an enormous amount of e-mail, please don't forget to write. I'd love to hear your story!
(Some of the above testimonies have kindly agreed to be contacted by e-mail should you wish to confirm their testimonials. All of the testimonials including photo testimonials are genuine and voluntary)
An Important Note – If You're Still UndecidedIf you suffer from anxiety and/or panic attacks but have still not ordered, you're probably hesitating for one of the following reasons.
Check the Response that Best Applies to You.
Reason #1: You are not sure that the course will work for your particular anxiety issue.
Panic Away is designed to treat general anxiety and panic attacks. If your problem is in any way connected to this it will help you rapidly overcome your problem.
-Your problem may be a bodily sensation that disturbs you
-A mental worry or repetitive anxious thought
-An everyday situation like eating out, speaking in public or driving on motorways. Regardless of the situation, the course goes to the root of the anxiety problem.
There are so many different manifestations of anxiety related problems but the way to treat them still remains the same and that method is what you learn in Panic Away. If however you really need to be 100% sure the course addresses your unique anxiety problem email us here and will will be happy to help you further.
Reason #2: You want the online version but are not sure about downloading a course over the internet. Downloading the course is the ideal solution to end this anxiety problem right now. No waiting for post to arrive. You access the information immediately and can do so from any computer you wish. The process of downloading is very simply, but if you have any problems we will help you straight away.
The course consists of a book, DVD and CD's. All of these are accessed online if you order the DOWNLOAD version only.
If you can surf the internet (as you are doing right now) you will be able to access the information no problem.
Reason #3: You are worried about how long it will take to implement the teachings found in Panic Away.
Our course is designed to inspire you. It's broken down into easy, sequential steps with clear directions to get you anxiety free. We get numerous emails from people who enjoy the straight forward and simple structure of the course. "How could I have over looked something so simple" is what people write to us all the time.
There is no complicated procedure to follow. You will get through the entire course in a matter of hours and will be implementing the technique by the end of today. As stated before this is NOT a series of countless steps or techniques to follow. This is as described, a 21-7 Technique™ that is simple to implement and profoundly effective.
If in the unlikely situation you feel 'stuck', or have questions on how to implement the technique in your life, I can personally guide you step-by-step through any hurdles or difficulties you may have.
Reason #4: The course is not for you but a friend or family member.
No problem. Simply email us after ordering and we will show you how to make the course available to the person you are buying it for. Alternatively you can print it off yourself and hand it to the person you wish to benefit from it. Believe us there is no better gift you can give to someone than the tools to restore peace and confidence so that they too can live anxiety free.
Remember : You have NOTHING TO LOSE. Apply the system within the 8 weeks, and if you aren't impressed, just email me saying "Refund Please" within 8 weeks and you
- Get all your money back